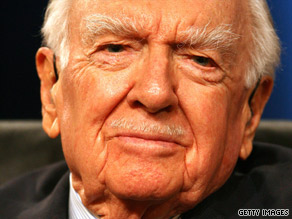 "The most trusted man in America dead at 92 years old". Former CBS anchor 'Uncle Walter' Cronkite dead at 92
(CNN-July 18, 2009) - Walter Cronkite, the CBS anchorman known as "Uncle Walter" for his easygoing, measured delivery and "the most trusted man in America" for his rectitude and gravitas, died Friday night in his New York home, CBS reported.
Cronkite was 92.
"Walter was always more than just an anchor. He was someone we could trust to guide us through the most important issues of the day; a voice of certainty in an uncertain world," President Obama said in a statement Friday.
"He was family. He invited us to believe in him, and he never let us down. This country has lost an icon and a dear friend, and he will be truly missed."
His career spanned much of the 20th century, as well as the first decade of the 21st.
The native of St. Joseph, Missouri, broke in as a newspaper journalist while in college, switched over to radio announcing in 1935, joined the United Press wire service by the end of the decade and jumped to CBS and its nascent television news division in 1950.
Suscribe my post